Feature Stories
---
March 2023

Twenty-four hours means racing during the day and at night. Here the class-winning Aston Martin s a pit stop in the dark — for fuel, tires and a driver change.
Photo by Jack Webster
Brits on Top in Rolex 24
Tom Blomqvist Brings Home the Overall Win for Acura at Daytona while Two Astons and a McLaren Take the GTD Class Podium

by Jack Webster & Eddie LePine


DAYTONA BEACH, Fla., Jan. 26-29 — The 2023 running of the Rolex 24 at Daytona, the first of 11 contests in this year's IMSA WeatherTech SportsCar Championship (IWSC), proved to be very successful for both British drivers and British marques.
Brit Tom Blomqvist, for the second year in a row, was a pilot in the overall winning prototype in a very hotly contested race. This time he was driving one of the brand new Acura ARX-06 GTP hybrids for Meyer Shank Racing, and he took the overall victory by under five seconds after 24 hours of racing over a similar Acura prototype.
But our focus here is on the GT Daytona (GTD) and GTD Pro battle, because — with the exception of the second prototype class, LMP2, where all the cars are powered by U.K.-built Gibson engines — that is where the British manufacturers reside in IMSA's WeatherTech SportsCar Championship. That battle raged for the entire 24 hours, with, as it turned out, impressive results for Aston Martin and McLaren.
There is no difference between the specifications of a GTD and GTD Pro car the difference is who is allowed to drive it. The GTD Pro cars are allowed a full complement of professional drivers, rated from "bronze" to "platinum," while the GTD class requires a mixture of top pros and gentleman drivers.
The Heart of Racing Team again entered Aston Martin Vantage GT3s in both categories, running familiar numbers 23 and 27 in GTD Pro and GTD respectively. Canadian Roman De Angelis, Dane Marco Sørensen, and Brits Ian James and Darren Turner won GTD in #27 and actually finished ahead of the GTD Pro-winning Mercedes. An outstanding achievement.
But not only did Aston Martin take the top spot in GTD, the marque took 2nd as well, with the #44 Magnus Racing Aston finishing only a little over five seconds behind the winning Aston. After 24 hours of back-and-forth racing, this was an incredible result for Danish driver Nicki Thiim and his American teammates John Potter, Andy Lally and Spencer Pumpelly.
Second on the GTD podium was Magnus Racing's #44 Aston.
Photo by Jack Webster



However, the Brits were not quite finished in GTD. The #70 Inception Racing McLaren 720S GT3 finished 3rd in the class at the hands of American Brendan Iribe, Dane Frederik Schandorff, Swiss Marvin Kirchhöfer and Brit Ollie Millroy. This completed a podium sweep by British manufacturers.

The two GTD Astons also fared better than the much-hyped #3 Corvette Racing C8.R in GTD Pro, which finished 2nd in class but with three GT cars, the Astons and the Mercedes, ahead of it overall.

Heart of Racing's #23 Aston, co-piloted by Brits Ross Gunn and David Pittard with Spaniard Alex Riberas, took 7th in GTD Pro, heroically managing to finish after overcoming suspension failure in the last nine minutes of the race. The outcome was particularly disappointing as the car had consistently been running in GTD Pro's top three, holding the class lead on 11 separate occasions for a total of 207 laps.

Another Aston campaigning in GTD Pro, TGM/TF Sport's #64 car, finished 8th in class, moving up 15 positions overall from the start to the end of the race. The grid across the five classes running at Daytona numbered 61 cars, and #64 started 60th.

"Firsts" for team, drivers and marque

For Heart of Racing team principal Ian James it marked his first Rolex 24 win and his 11th career IMSA victory. For Darren Turner it was also his first Rolex 24 victory and his sixth career IMSA win (Roman De Angelis shares the same stats). It marked Marco Sørensen's first Rolex 24 and IMSA win.

The victory was the seventh career win for the Heart of Racing Team, and their first in the Rolex 24. All four Heart of Racing drivers left Daytona with brand new, and hard earned, Rolex watches on their wrists!

The Rolex 24 win also marked the first Aston Martin victory in the history of the endurance classic.

Said Ian James, "It's an honor to be the first win for Aston Martin here at Daytona. It was an awesome job done by the Heart of Racing crew. I'm really proud of everyone here on the team. It's been a real pleasure to share a car this weekend with Darren, Roman and Marco.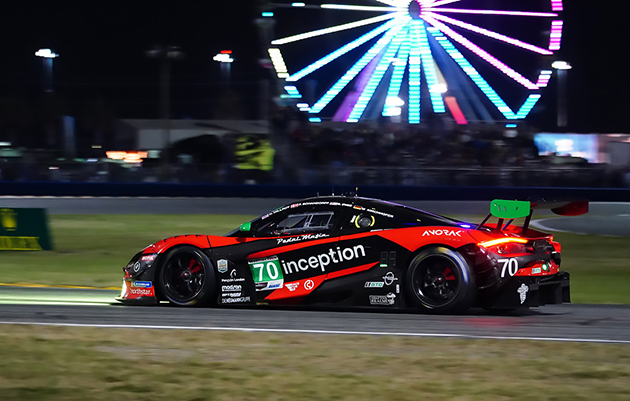 Inception Racing's #70 McLaren completed the GTD podium — Britain winning, placing and showing.
Photo by Jack Webster
"That was a wild last hour or so of the race," he grinned, "but now we can sit back and enjoy."
Darren Turner added, "It is absolutely incredible to win here at Daytona. The performance of our team has been absolutely amazing and the Aston Martins have been the fastest thing out there on the track."
Hmm, maybe that's why there were eight of them signed up for IMSA's Michelin Pilot Challenge earlier this weekend (see below).
IMPC: Astons, McLarens the Big News
by Bruce Vild
Yes, you read that right. There were eight Aston Martin Vantage GT4s in the IMSA Michelin Pilot Challenge (IMPC) race that preceded the Rolex 24, the BMW M Endurance Challenge at Daytona.
Aston was by far the best-represented marque in the Grand Sport (GS) class, better than Mercedes with six, Ford Mustang and BMW each with five, and Porsche with only four, among others.
The IMPC season opener also featured the debut of the McLaren Artura GT4. Following what McLaren Motorsport called "an extensive test and development program," the first two customer cars were delivered to Crucial Motorsports and Motorsports In Action late last year and were seen here this weekend.
And how did they all do? By the time the dust cleared after the checkered flag, Astons had taken three top-10 positions (plus 11th and 12th place) and the Crucial Motorsports McLaren finished 6th — after starting 30th in a field of 32 GS cars.
This involved working their way around traffic from the smaller and just slightly slower cars in the Touring Car class (TCR) as well as racing against the other GS contestants. Altogether there were 46 entries across the two classes and five caution periods (yellow flags) prompted by collisions or mechanical failures.
Automatic Racing's #9, top finisher among the Astons in the Michelin Pilot Challenge race.
Photo by Jack Webster
The Astons
Aston veterans Automatic Racing fielded two teams at Daytona and recorded their best finish in a long time with their #9 car, co-piloted by Jim Jonsin, Tom Long and Brett Sandberg. Long crossed the finish line in 5th place, behind Murillo Racing's #72 Mercedes with driver Christian Szymczak by just 0.007 seconds.
In fact, preliminary results showed Long in 4th, but a re-examination by race officials of what was truly a photo finish confirmed that Szymczak just nosed out Long at the line.
The second Automatic Racing car, the #09 machine in familiar Stoner Car Care livery and driven by Ramin Abdolvahabi and Rob Ecklin, started at the very back of the GS pack and finished mid-field in 17th place.
Abdolvahabi and Ecklin are vying for the IMPC's Bronze Cup with three other GS teams. To be eligible, drivers on the team must all be "bronze" rated as opposed to "silver," "gold" or "platinum." Bronze tends to be where the gentleman (or lady) racers are, along with young professionals on their way up. Automatic Racing's #09 team is in the first category, and both men admit the Bronze Cup is their incentive for running this season.
Another Aston team at Daytona with two cars and sets of drivers was Team TGM, which is using the same drivers in the IMPC and the IWSC — brothers Matt and Hugh Plumb, and Owen Trinkler and Ted Giovanis. Having made the transition from Porsche to Aston Martin over the winter, they are partnering this season with Aston Martin Racing veterans TF Sport, the British team that won its class at Le Mans in 2020 and 2022.
Owner Giovanis commented that he had hoped for a podium or at least a mid-field finish. The Plumbs took their #46 Aston to 9th place while Trinkler and Giovanis brought the #64 sister car to 19th after a close call early in the race — a spin where Giovanis nearly hit a wall. This was compounded by a bad call not to pit #64 for fuel and tires during what would be the race's final caution. That decision had Trinkler leading, then backing off, and finally ducking into the pits in the last few minutes of the race.
Pit strategy is always a gamble, and all things considered these were not bad results for a first run in new-to-them cars. Both TGM machines moved up several positions from the start, each running as high as 2nd over the course of the race and Trinkler leading on two separate occasions for a total of five laps, before losing ground in the final moments of the race. The team is looking forward to Sebring and so are we.
Two McLaren Artura GT4s delivered late last year debuted at Daytona. One was Crucial Motorsports' #58.
Photo by Jack Webster
The McLarens
A big takeaway from Daytona was the performance of Crucial Motorsports' #58 McLaren, particularly at the hands of Michael de Quesada as the race came to a close.
Co-driven with de Quesada by Henry O'Hara and Aurora Straus, the car suffered a collision during the final practice, underwent repair and started the race, as mentioned, way in the back of the pack. O'Hara moved up several positions before handing #58 over to Straus, who brought it up to 13th.
Taking the wheel with about an hour and a half to go, de Quesada really dialed in the car, moving to the top 10, then up to the top six with fewer than 10 laps left in the race. And there he finished, a little over 10 seconds behind the eventual winner, a Ford Mustang.
The Motorsports In Action team, led by drivers Jesse Lazare and Alex Filsinger, had a rougher time of it, qualifying their #69 McLaren in the top 10 but finishing 21st in the race. Filsinger was running 12th when he pitted for the driver change to Lazare, but a drive-through penalty caused by a pit lane violation cost the team several positions and they wound up just off the lead lap.
Impressive results
In the test of endurance, as this was an endurance race — four hours as opposed to the usual two in the IMPC — all the British cars finished and all but one did so on the lead lap. When taken with the result of the "big" race of the weekend, the Rolex 24, the Astons and McLarens proved themselves once again. They brought home IMSA championships last year, and with these results the future looks bright in 2023.
[With thanks to IMSA Radio and Lee Driggers' Pit Notes.]
January/February 2023

Victories in two of the HSR Sebring Classic 12 Hour run groups belonged to Marco Fumagalli's Lola T160...
Photo by Colin Sword

Lola, Chevron Win at Sebring!

by Bruce Vild



SEBRING, Fla., Dec. 3-4 — What takes 12 hours, happens in Sebring, and has a history going back more than 60 years? And is not an event sanctioned every March by the International Motor Sports Association (IMSA)?

Obviously, if you answered the 12 Hours of Sebring — or, more correctly, the Mobil 1 12 Hours of Sebring — you'd be, well, wrong.

This particular event occurs within the purview of the Historic Sportscar Racing (HSR) organization, now described as a "property" of IMSA but with its own sanctioning responsibilities. And it doesn't take place in March, but in December.

Plus, the final outcome is determined the day after the first green flag flies.

I'm talking about the HSR Classic Sebring 12 Hour, presented by the Alan Jay Automotive Network. The "Classic" part is why the winner can be a 1969 Lola T160 or a 1974 Chevron B26.

The Classic Sebring 12 Hour is one of two events in the HSR Classic series, the other being the Classic Daytona 24 Hour that takes place at Daytona International Speedway in November.

Fans do get to see a good 12 hours of racing, which takes place on Saturday, but this consists of a staggered schedule with four run groups each getting in three races from noon to midnight. The fourth race for each group happens on Sunday and that determines the groups' overall victors.
...and Gray Gregory's Chevron B26.
Photo by Colin Sword
Brits run all weekend
Where the entrants sit chronologically determines the group in which they race. For example, Group A consists of cars from "the Early FIA era, 1952-1972" and Group B from "the Early IMSA GTP/GTO/GTU era, 1973-1982." Cars from the American Le Mans Series and recent LMP2 and LMP3 prototypes can be found in Group C, and GT cars from series reaching into the 2000s, such as the Ferrari Challenges and Porsche Cups, populate Group D.
Each group is further broken up by classes ranging in number from a few to nearly a dozen, depending on the group, with GT cars found in each.
The Classic Sebring 12 Hour is intended to transport fans back to the time when all of these machines represented the state of the art in motorsports — as the electrified GTP prototypes in IMSA do today. Staging the event so that each group races during the daytime and at night adds to the "12 Hour" experience.
The Classic Sebring 12 Hour was the main event in a weekend stretching back to November 30th called "Pistons and Props" that saluted Sebring International Raceway's history as both a racing venue and a World War II Army Air Corps training base. There were awards to be given not only to cars but to airplanes, and all the vintage racing was accompanied by aircraft displays and a "fly-in."
Other races that weekend included finales for two season-long championship series, the HSR Sebring Historics and the Sasco Sports International/American Challenge, and an Endurance Series sponsored by B.R.M. Chronographes.
In the Classic Sebring 12 Hour, Marco Fumagalli took the overall victory in Group A with what was described as "a strong race from start to finish" in his #26 1969 Lola T160 prepared by Waite-n-See Motorsports. This was Fumagalli's second appearance in the 12 Hour. He participated in 2019, too, and won Group A then as well.
Waite-n-See teammate Toni Seiler campaigned another Lola, the #20 1969 Lola T165, but was sidelined with a mechanical issue after completing only four laps on Saturday. However, as co-driver of the race-leading #26 car, he and Fumagalli were able to share the Group A win on Sunday after the fourth and final round of the 12 Hour.
Running hard all weekend, in the Classic 12 Hour and in the earlier group races, were TVR Vixens #91 and #92 driven by Michael Taradash and Mark Brown.
Photo by Colin Sword
Chasing them in all four races was Till Bechtolsheimer in his 1968 Chevron B8, car and driver both from the U.K. and placing 2nd, while the Group A podium was completed by Alain Ruede and Charles Firmenich in a 2002 Shelby CSX 4000 from Switzerland.
In Group B, Phil Reilly & Co.'s #26 1974 Chevron B26, co-driven by Gray Gregory, Randy Buck and Ethan Shippert, grabbed its sixth victory in the HSR Classic series. This complemented previous wins at the Classic Daytona 24 Hour in 2020 and this past November, plus three straight Classic 12 Hour triumphs at Sebring in 2018, 2019 and 2020 — making Gregory's car and crew the series' career leaders. Porsches took the second and third steps of the Group B podium. Another Chevron, Mitchell Eitel's #62 1975 B31, finished in the middle of the field.
Victories in the remaining run groups belonged to Ideal Motorsports' #41 Oreca FLM09 Le Mans Prototype Challenge car (Group C), and KMR's #85 Porsche Cup 991 (Group D). In the two groups only one British car was present, Craig Bennett's #30 2012 Lola B12/80 in Group C. Bennett ran as high as 5th in the second of the four races but finished 16th overall.
Some of the cars in the Classic 12 Hour also competed in other races that weekend. These included a pair of TVR Vixens, #91 and #92, co-driven by Mark Brown and Michael Taradash in Group A, in the B.R.M. Endurance Series, and in the HSR Group 2 & 3 races in the Sebring Historics.
Rounding out the race weekend were Jim Farley's #98 1978 Lola T298, which topped all three of the HSR Group 5 & 7 races in the Historics, and Herve Parke's #11 1965 Ginetta G4, which won the International class in the Sasco Challenge. Farley also ran in the Classic 12 Hour in Group B, finishing 2nd in two of Saturday's rounds, but later had to retire the Lola with an electrical issue.
And in the "Props" part of the weekend, another Brit took a win. The 2022 Best Plane Award went to Tony and Amy Greene for their 1973 Bulldog 120, manufactured by Scottish Aviation Ltd. in the U.K.
The next time this paper will report on Sebring it will be for the Mobil 1 12 Hours and all about 21st-century motorsports. But isn't it nice to see the older cars that helped make the track famous still racing there too?
[From HSR reports.]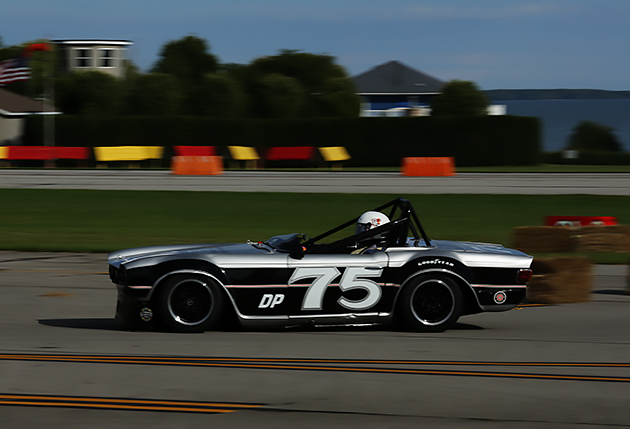 December 2022

Sam Halkias' #75 TR6 won the Challenge, but the other top five places were taken by MGs.

Photo by Todd Sullivan
Put-in-Bay 2022
MGs and Triumphs 'Challenge' Each Other, then the World, at this Year's Road Race Reunion

by Kat Kurkov


PUT-IN-BAY, Ohio, Sept. 20-23 — Islands create their own magic. Characters like Dr. Moreau and Caliban live side by side with Gilligan and cloned velociraptors. It's a place to be "Castaway" or "Lost," to bury a treasure or to find yourself in a Land that Time Forgot.
For several days in the early fall, South Bass Island, off the northern shore of Ohio, becomes a magical time and place. The portal is not a book or a movie, but a ferry laden with race cars, drivers and spectators all with the same destination — the village of Put-in-Bay, and the Put-in-Bay Road Race Reunion, a place "not for big bores or egos" (the event's official motto).
At this year's PIBRRR, MG and Triumph were the featured marques, took on each other in a special "Challenge" race, and then faced competition from their contemporaries ("original era" to 1963, and "post-era," 1963-72) in two races before the final race for the Put-in-Bay Cup. These included two Mustangs, a Porsche 914, an Alfa, a Ford Cortina, and a very fast VW Beetle!
How it all started
Put-in-Bay and South Bass Island are known in history for Admiral Perry's victory in the War of 1812, winemaking, and becoming at one time the largest summer resort in the USA. The island's party atmosphere kept growing after World War II, so it was just a matter of time that road racing would follow.
Carl Goodwin takes a break from the track to promote his book on road racing back in the day.
Photo by Todd Sullivan
In 1952 a 3.2-mile track was devised with a one-mile straight in the midst of its turns. The start/finish line was Delaware Avenue, right smack downtown. Spectating was sport for the nimble, as safety took the back seat to getting a great view. There was no prize money for winning in your (basically) daily driver, or SCCA points — just a silver cup, and a chance to make history with 99 or so other drivers in 2-liter (and under) cars.
The drivers' exploits are chronicled in Carl Goodwin's aptly-titled book, The Put-in-Bay Road Races, 1952-1963. (This year Goodwin, now a veteran racer, was the second oldest driver on the track in his 1962 Austin-Healey Sprite. He was joined by Sally Vaughan-Carroll, long-time friend and President of the Cleveland Sports Car Club, and an attendee at the first Put-in Bay race.)
History repeats itself
Although road racing on the island ended in 1963, it returned in 2009 on a very limited basis thanks to the efforts of event co-founder and Race Director Jack Woehrle. Then in 2012, with FAA approval granted, a 10-turn, 1.2-mile haybale course was set up at the island airport, which shut down for two days.
The race program evolved, and so did the guidelines. Currently, vintage race-prepared pre-1973 production cars up to 3 liters, sports racers up to 1.5 liters, Formula Vees and Formula Juniors are all welcome, making this a unique playing field for cars rarely seen on the track.
In the '50s British cars, especially MGs, dominated road racing with Triumphs a close second. This was repeated 70 years later when Manley Ford, Event Coordinator, Media Contact and general MG guru got together with friend and racer Richie Hahn, a Triumph advocate, and put an MG-Triumph Challenge Feature Race on the books for this year's PIBRRR.
The Challenge Cup
Of 21 cars registered, 10 MGs and five Triumphs made it onto the tarmac. The wind whipped a Union Jack as the cars fell into formation awaiting the green flag. Fifteen laps later, Sam Halkias in his 1971 black "Paul Newman tribute" TR6 was the first to cross the checker. With a displacement of 2500cc, a dog-box transmission and being truly dialed in for this race, the car allowed veteran driver Halkias to win by a wide margin.
Great friends and long-time fellow racers Kurt Byrnes in a 1951 MG TD and Steve Konsin in a 1953 TD came in a clear 2nd and 3rd with much of the pack significantly behind them.
Entrants assemble for the Put-in-Bay Cup Race.
Photo by Todd Sullivan
Of special note was 4th-place finisher Mark Lekanka in a red 1952 MG TD. He is an island native, a long-time employee of Millers Ferry (which sponsored his car), and all-around race facilitator and volunteer.
The Put-in-Bay Cup
The Cup Race on Thursday saw a very spirited but unlikely competition, with British cars taking 1st and 3rd. The TR6 with Halkias behind the wheel was again a clear winner, but not before battling with Greg Limbar's 1971 VW Beetle (often shrouded in blue smoke), and Lee Poseidon's 1962 Jaguar XKE. Drivers found that in a course like this acceleration was, as always, important — but keeping your brakes from fading brought you victory.
Great results across most classes
There were five groups racing with 15 classes spread among them. With the exception of Group Five (the FJ/FL class), British cars were well represented and won the podium in the Cup Race. Konsin and Halkias placed 1st in their groups, and were joined by Randy McConnell (1962 Austin Mini Cooper) and Robert Kansa (1960 Austin-Healey Sebring Sprite) in theirs.
In addition to the racing there were car shows, drives, parties and gatherings — first at Heineman Winery, then at The Goat for soup and whiskey, which also hosted rocker cover races (single-elimination and gravity-driven).
Until next year...
"In view of the Perry Victory and International Peace Memorial, minutes from the vineyards and markers outlining the original race circuit, the mail plane lands. Like clockwork the airport shuts down as fall winds blow across miles of open water. The time machine spins the years back and racers in vintage cars once again make this island their own..."
A classic island tale — not broadcast, not scripted — but rewritten each year, with heroes and horsepower taking us to a different time, place and reality.
For more information and the complete race results, visit www.pibroadrace.com.