Feature Stories
---
May 2023

Strong and steady wins the race, or at least keeps you in contention for the championship. Podium position at Daytona and a 4th in class at Sebring put Inception Racing and McLaren ahead of everyone else.
Photo by Jack Webster

12 Hours to the Top
McLaren and Inception Racing Leave Sebring in the Lead

by Jack Webster & Eddie LePine



SEBRING, Fla., Mar. 18 — Despite a challenging race at the Mobil 1 12 Hours of Sebring, British manufacturers McLaren and Aston Martin left looking pretty good for the 2023 IMSA WeatherTech SportsCar Championship.

Contact in the early part of the 12 Hours saw the Inception Racing McLaren fall to the back of the strong 20-car GTD field, but the team fought their way back to finish 4th in class — enough to take both the top positions in the GTD drivers' championship and for McLaren to take the top spot in the manufacturers' championship.

Granted, it is still quite early in the season, with only Daytona and Sebring in the record books, but the strong showing by the team (3rd at Daytona and 4th at Sebring) set them up nicely for the April sprint race at Long Beach.

Drivers Brendan Iribe, Frederik Schandorff and Ollie Milroy all sat atop the GTD drivers' championship after Sebring, if only by one point. With all that happened in the race, being able to leave Sebring and head to Long Beach with a lead in the championship is quite an accomplishment for the team.

Said Ollie Millroy: "That's 4th place in the 12 Hours of Sebring. So close, yet so far, [but] an incredible job by the whole team. Flawless pit stops, awesome strategy and epic driving by my teammates Brendan and Frederik.

"The final full-course yellow right before the end bailed out two of the three cars in front of us who were having to pit for fuel before the end of the race, and killed our chances of a podium.

"That's the exciting thing about IMSA... it's never over until it's over. However, we do go away leading the championship so we should be happy with everything we've achieved here."

That full-course caution that Millroy mentioned followed a spectacular smash-up instigated by GTP driver Filipe Albuquerque in the #10 Acura with less than 20 minutes to go in the race.

Albuquerque went off course and then back onto the track right into traffic, causing a chain reaction of collisions that took out his car and two Porsche GTPs — all of which at that point were serious contenders for the overall win. This handed the victory to the next GTP in line, which was able to go around the wreckage — the #31 Cadillac driven by Jack Aitken.
A likely podium finish for the Heart of Racing Team's #27 Aston in GTD was foiled when the car was run off the track late in the race.
Photo by Colin Sword
Aston coming on strong from Daytona
Aston Martin went to Sebring after an outstanding result in Daytona at the Rolex 24. The Heart of Racing Team had entered two Aston Martins — one in GTD and one in GTD Pro — and ended up with the GTD class victory and 7th place in GTD Pro.
Coming to Sebring, the team was fired up and ready to challenge for the win once again. As driver Roman De Angelis said before the race, "Coming from a win at Daytona is amazing for the whole Heart of Racing Team. Like Daytona, Sebring is a tough race to win and a lot of it comes down to luck.
"We've had success at Sebring in previous years so I'm hoping we can keep the ball rolling and hold the lead in points. It's important we keep our eyes on the long-term goal — the championship."
After starting 7th in class, the #27 Aston Martin steadily moved up in the GTD field until De Angelis' teammate Marco Sørensen put it into the class lead by Lap 185. Unfortunately, the win or even a podium finish was not to be, as Sørensen was forced off the track late in the race — clipped by a Lamborghini that was battling for position in GTD Pro — with front steering damage and had to retire the car.
For De Angelis, Sørensen and third driver Ian James this turn of events had to be crushing, but such is racing.
The #23 Aston Martin running in GTD Pro didn't fare much better. Starting 3rd, the car piloted by Ross Gunn, Alex Riberas and David Pittard was running strongly until Gunn experienced an electrical problem 3-1/2 hours into the race. He was able to get the car back to the pits, and the Heart of Racing crew did an outstanding job of diagnosing and fixing the problem in 18 minutes.
However, in this modern era where a 12-hour endurance race is literally a 12-hour sprint, the deficit was too much to overcome. The car finished in 8th place in the class.
The other Aston Martin Vantage GT3 in the race was the #44 car run by Magnus Racing in GTD and piloted by John Potter, Andy Lally and Spencer Pumpelly. Coming off a strong 2nd place finish at Daytona, they were in the hunt for most of the Sebring race, but ended up finishing 9th in class — but on the same lap as the winners at the finish.
Lally was at the wheel and running 6th when contact with a Mercedes forced him to pit with less than half an hour to go in the race. The Mercedes driver, Mikael Grenier, was later charged with responsibility for the incident and forced to do a drive-through penalty. Ironically for Grenier, he wound up one position behind Lally at the finish.
Again, such is racing.
All in all, while the results at Sebring were not what they were at Daytona, the McLaren and Aston Martin teams left Florida still in good shape as far at the championships were concerned. And going from the two longest races of the year to the shortest at Long Beach in California, it would be interesting to see how they fare.
The season's just starting. We've got a long way to go.
Crucial Motorsports' #58 McLaren started well but ended sadly.
Photos by Jake Galstad, LAT Images
IMPC: Quirky Start, Lots of Drama
by Bruce Vild


SEBRING, Fla., Mar. 16 — While the Alan Jay Automotive Network 120 didn't have the slam-bang finish, literally, that the Mobil 1 12 Hours of Sebring had, the Michelin Pilot Challenge (IMPC) race had its share of drama, from a GS qualifying session that wasn't, to two McLarens from the same team put out of the running in separate incidents, a BMW being relegated to last place because a driver failed to get in his minimum drive time, and fully 15 cars not running at the finish out of a starting grid of 42.
Qualifying
Those familiar with the IMPC series know there are two classes, GS (Grand Sport) and TCR (Touring Car). It seems that TCR qualifying went according to plan, but there were two red flags early in the session for the GS cars that held things up for so long that the session's time ran out before anyone was able to set a lap. The grid was therefore determined by the number of championship points the teams had accumulated this season — which meant how they finished at Daytona, the only other race so far.
This was complicated a bit by the fact that three of the top five finishers at Daytona did not come to Sebring, and the pole sitter wound up being the man who placed 2nd at Daytona, Porsche driver Thomas Collingwood. Collingwood's co-driver was Spencer Pumpelly. Yes, that Spencer Pumpelly, who would co-drive on Saturday with the Magnus Racing team's #44 Aston Martin.
Four British cars would start in the top 10: a McLaren in 3rd, and Aston Martins in 6th, 7th, and 8th.
There are no British cars in the TCR class, but we will report that L.A. Honda World Racing's #37 Civic FK7 TCR grabbed the class pole — because there is a tenuous British connection. Team driver Mat Pombo raced a MINI JCW in the IMPC's predecessor series, the IMSA Continental Tire Sports Car Challenge. He came up 2nd in championship points in 2018, with seven podiums and three wins in 10 races.
The race
The Plumb brothers, Matt and Hugh, achieved the best result for a British car in their Team TGM #46 Aston Martin Vantage GT4, 8th overall and in class. Next best were Moisey Uretsky and Michael Cooper, 11th overall and in class in the #44 Aston from Accelerating Performance, followed by Team TGM's sister car, the #64 Aston piloted by Owen Trinkler and team principal Ted Giovanis, 15th overall and in class.
Although it was reported that Automatic Racing's Rob Ecklin and Ramin Abdolvahabi are in hot pursuit of the IMPC's Bronze Cup in their #09 Aston, they were not present at Sebring. Nor were Jon Branam and John Potter in TR3 Racing's #29 Aston. The only Bronze Cup contenders here this weekend were former Aston drivers Gary Ferrera and Kris Wilson, who are now racing a Mercedes-AMG GT4 for Wilsports. The points were theirs even before the race began.
Team TGM's #46 Aston was the top finisher among British cars in the IMPC (8th).
McLaren had a terrible day, Crucial Motorsports especially. Driver Aurora Straus started 3rd on the grid in the team's #58 Artura GT4 and stayed in the top 10, positioned 5th or 6th for most of her run and as high as 3rd with pit rotations and several other drivers having to serve drive-through penalties for various missteps. She pitted in 9th place, handing off to Michael de Quesada a little more than halfway through the race, and things looked good for a respectable, maybe even a top five finish. That didn't happen.
De Quesada moved up a couple of positions and for a time was running 6th. But with 37 minutes left in the race he lost it exiting Turn 17, and his McLaren went hard into a tire wall, ending the race for #58.
Barely five minutes earlier, Crucial took another hit when its other car, the #85 McLaren helmed by Eric Zitza and Ron Zitza, had to duck into the pits with an apparent brake fire that was promptly extinguished and a suspension that had collapsed. Though by then it was not a contender for even a top 10 finish, #85's retirement coupled with the DNF for #58 was a miserable outcome for a team that placed 6th at Daytona.
A third McLaren, the #69 Motorsports in Action car, did finish the race, placing 17th overall and 16th in class, just behind the #64 Aston and the top TCR finisher, an Alfa Romeo Giulietta Veloce (street version not available in the USA). There was an incident in the first half-hour of the race, apparently instigated by one of the Mercedes, that led to an off by the Ferrera and Wilson car and a spin by the McLaren that no doubt contributed to this result.
Another Aston, van der Steur Racing's #19, ended 26th overall and 19th in class — but finished.
And finally, there was the GS car that was last in class. That was the #92 Random Vandals Racing BMW M4 GT4, placed there by track officials who determined that driver Paul Sparta missed his mandatory minimum drive time (40 minutes) by eight seconds. Hey, rules are rules.
The IMPC sat out the next IMSA event, the race on the streets of Long Beach, Calif., and would return for Laguna Seca the weekend of May 12-14. Stay tuned.
[From IMSA sources and Lee Driggers' Pit Notes. Thanks also to Phil Allaway from Frontstretch.]
April 2023

The Cotes Elan rounds a bend on a jungle road.
Photo by Veronica Strucelj

Sri Lanka Classic Elan
Peter & Allison Do It Again — This Time While Chasing Family History on the 'Island of Jewels' Formerly Known as Ceylon

by Peter Cotes



The Belgian organizer, Destination Rally, called it 'Sri Lanka Classic 2023'.

In general terms I don't like shipping a car a long way for a short rally — but this was a warm country in January, we hadn't done much recently, and Allison had found sketchy information on her father Edward's posting there with the RAF during the war.

So we shipped the Elan to Sri Lanka.

We've not been with Destination Rally before, but did know a couple of the other crews.

One major concern was the political situation as it wasn't that long ago that our TV screens were full of reports of protests and riots, food and fuel shortages and economic collapse. The Foreign Office website advised caution and to keep a low profile — as if driving eleven foreign vintage and classic cars can be described as low profile!

In the event, however, there were no problems in any these areas. We saw no protests or riots even though we were near the Presidential Palace. Petrol was rationed but we had cards giving us a weekly allocation of 250 litres. This caused comment when we filled up but that's as far as it went.

Perhaps more concerning was that it was advertised as 92 Octane and we never did find out what ethanol it contained. Maybe we'd see when the car got back home?

The Elan had spent two months being shipped out but was none the worse for its journey, starting and running sweetly. The rally navigation was tulips and trip meters and we gave ourselves an initial fright when I forgot whether the trip meter was running on kilometres or miles — Allison got very confused and lost!
'Elaborate welcome rituals' included this all-male dancing troupe at the start for good luck on the rally.
Photo by Peter & Allison Cotes
Our start just north of Colombo required a dancing troupe (all men) as good luck to see us on our way, and once we'd sorted out the trip meter all was plain sailing, except when Allison jumped a few lines in the tulips...
One feature of the rally was narrow winding roads and another was regular tea stops so progress was slow. All the hotels had elaborate welcome rituals with garlands round the neck, damp towels to wipe hands and face, welcome drinks and plenty of staff to greet and carry our luggage (not reckoning on the limited luggage capacity of a rally Elan!).
Our first stop was near Anuradhapura, one of many cities to have been the capital over the years. Here we found a plethora of ancient monuments, largely without tourists and touts.
A number of crews regularly got lost — one managed to get two hours off course, quite an achievement on a small island! We were asked to use an app so the organisers and their entourage, which included baggage wagon, mechanic as well as breakdown truck, could track our progress. My old phone turned out to be locked onto Vodafone so I couldn't load the local SIM card and app — we travelled unseen!
On Day 3 we left Trincomalee and the rally route to go to Batticaloa ("Batty"), where Edward had taken some photos in 1942. One included the now-demolished mosque (about 11% of Sri Lankans are Moslem). We were welcomed in town as they had few photos of it. We rejoined the route in Polonnaruwa and viewed more relics of ancient capitals.
Our hotels along the rally were the best available in the area and here was no exception, nestling in private grounds of 80 acres, mainly paddy fields. The lodging had its own stables, solar panel array and a view (in the 10% of the time it wasn't hazy) of Sigiriya Rock.
A tuk-tuk convoy took us on a pre-breakfast outing to the Rock. It had a large flat plateau rising 300 metres as though someone had pressed it out of the plains with near vertical sides. It's famous because it was the bolt-hole of a king who murdered his father and was (rightly) concerned that his brother would — and did — seek vengeance.
Another tuk-tuk convoy in the afternoon took us to Dambula Caves, but the interest here was not the caves so much as the wild elephants on the road. Generally they are peaceful and eat the foliage — but they don't like tuk-tuks. One crew had seen a tuk-tuk demolished by an elephant the previous day so we were rather hoping we'd get through unscathed.
A pachyderm wandering along the road seen by tuk-tuk. Elephants don't like tuk-tuks.
Photo by Peter & Allison Cotes
Then it was on to Kandy and the Temple of the Sacred Tooth, pulled from The Buddha's mouth as he lay on his funeral pyre. History does not explain why only one tooth was rescued, but the kings of Sri Lanka and following them the British Raj, and now the State, were and are duty bound to protect the relic forever.
We had been fairly enthusiastic on the hilly drive to Kandy and I hadn't jacked the suspension high enough, so the underside got a hammering. We jacked it up that evening but the sump guard was very close to the exhaust pipe — and I'd broken the front suspension pin that holds the rollbar. We strapped up the rollbar and carried on.
Our next stop was Nuwara Eliya ("Little England") and the Heritance Tea Factory, founded by Norfolk's Edward Flowerdew in 1860, whose brand is Hethersett (Flowerdew's hometown). The car park was next to the tea plantation's workshop and the resident mechanic was out there to help me straighten my misshapen sump guard brackets.
The Factory had been refurbished in 1932 with new British machinery, abandoned in 1973 and converted to a hotel in 1998 with as many original but out-of-position artefacts as was possible. Its tea museum had a practical element but I'd be starving if my job was tea picker!
Allison's father Edward had photos from this area so there was detective work to do. Everyone went out of their way to help these mad English with their funny car, and we visited the Golf Club, Victoria Park and the Grosvenor Hotel (now abandoned). We also met the Mayor and visited his museum but failed with the church.
Next day it was on to a national park but the wildlife heard we were coming and hid away. Our lunch stop provided the customary excessive quantities of food. I expect somebody somewhere benefited from it.
At the hotel in Wellawaya, the chefs had prepared our rally plates entirely from coloured rice — but now there was work to do in the car park. The Elan has a metal frame that is bolted to the radiator and holds the twin electric fans. Somehow this had chafed against the radiator and worn a small hole in the frame just at the level of the core. The mechanics took control, radiator out, liquid metal and araldite in/on, a dash of Radweld and off we'd go.
We headed to the south coast, encountering our own approaching elephant on the way, and a serious increase in temperature and humidity. Our "tented" camp was next to a wildlife park, and a jeep safari took us in search of buffalo, crocodiles and, by long-range view, leopards. Evening cocktails by the beach and an escort from the dining room to our "tent" (in case of wild animal incursion) rounded off our day.
Elan at Polonnaruwa.
Photo by Peter & Allison Cotes
As part of its social stance, the rally was supporting a local school and today was presentation day. Two computers, a printer and dozens of T-shirts were handed out — let's hope the power supply is adequate and reliable.
Our hotel was on a promontory on the south coast, with views overlooking surfers and backpacking holiday-makers. Just a very short way inland was a seemingly very strict Moslem town, with no dogs and with women covered head to toe. The contrast to the "show it all" backpackers was dramatic.
I've not mentioned the dogs, but they were everywhere. The roads were clearly for them to snooze on and they were very reluctant to make way for cars. Some had been injured, some mangy, some chased cars, but the majority just lay down and snoozed.
Our next visit was to a boatbuilding enterprise run by a friend of one of the participants. This had started offering training in boatbuilding but, realising that job prospects for the trainees were limited, it evolved to building high-quality boats and providing sails for local fishing boats. The theory was that fuel was expensive so they could reduce fuel use by having their customers use the motors to enter harbour and the sails whilst fishing out at sea.
The last excursion was to lunch with the Classic Car Club of Sri Lanka, hosted by a local enthusiast who must have had over 50 cars of his own — including one of the two Lotus thought to exist in the country! Then we had a police motorbike convoy to our hotel in Colombo near the Presidential Palace. (Low profile?)
After a welcome G&T there was still more to do following Edward's footsteps.
In her father's papers, Allison had found an information pack for "visiting troops" in Ceylon, as Sri Lanka was known then, and it included a map of Colombo starting with the route the police convoy had taken. A tuk-tuk carried us the short distance to the port where we identified a number of buildings shown on the map — the NAAFI, the information centre for troops, stores, hotels.
The names may have changed, but after walking down Lotus Road we went to the basement tap room of the Grand Oriental Hotel and toasted Edward. Was he there 80 years earlier? I don't know, but he did like a drink!
March 2023

Twenty-four hours means racing during the day and at night. Here the class-winning Aston Martin s a pit stop in the dark — for fuel, tires and a driver change.
Photo by Jack Webster
Brits on Top in Rolex 24
Tom Blomqvist Brings Home the Overall Win for Acura at Daytona while Two Astons and a McLaren Take the GTD Class Podium

by Jack Webster & Eddie LePine


DAYTONA BEACH, Fla., Jan. 26-29 — The 2023 running of the Rolex 24 at Daytona, the first of 11 contests in this year's IMSA WeatherTech SportsCar Championship (IWSC), proved to be very successful for both British drivers and British marques.
Brit Tom Blomqvist, for the second year in a row, was a pilot in the overall winning prototype in a very hotly contested race. This time he was driving one of the brand new Acura ARX-06 GTP hybrids for Meyer Shank Racing, and he took the overall victory by under five seconds after 24 hours of racing over a similar Acura prototype.
But our focus here is on the GT Daytona (GTD) and GTD Pro battle, because — with the exception of the second prototype class, LMP2, where all the cars are powered by U.K.-built Gibson engines — that is where the British manufacturers reside in IMSA's WeatherTech SportsCar Championship. That battle raged for the entire 24 hours, with, as it turned out, impressive results for Aston Martin and McLaren.
There is no difference between the specifications of a GTD and GTD Pro car the difference is who is allowed to drive it. The GTD Pro cars are allowed a full complement of professional drivers, rated from "bronze" to "platinum," while the GTD class requires a mixture of top pros and gentleman drivers.
The Heart of Racing Team again entered Aston Martin Vantage GT3s in both categories, running familiar numbers 23 and 27 in GTD Pro and GTD respectively. Canadian Roman De Angelis, Dane Marco Sørensen, and Brits Ian James and Darren Turner won GTD in #27 and actually finished ahead of the GTD Pro-winning Mercedes. An outstanding achievement.
But not only did Aston Martin take the top spot in GTD, the marque took 2nd as well, with the #44 Magnus Racing Aston finishing only a little over five seconds behind the winning Aston. After 24 hours of back-and-forth racing, this was an incredible result for Danish driver Nicki Thiim and his American teammates John Potter, Andy Lally and Spencer Pumpelly.
Second on the GTD podium was Magnus Racing's #44 Aston.
Photo by Jack Webster



However, the Brits were not quite finished in GTD. The #70 Inception Racing McLaren 720S GT3 finished 3rd in the class at the hands of American Brendan Iribe, Dane Frederik Schandorff, Swiss Marvin Kirchhöfer and Brit Ollie Millroy. This completed a podium sweep by British manufacturers.

The two GTD Astons also fared better than the much-hyped #3 Corvette Racing C8.R in GTD Pro, which finished 2nd in class but with three GT cars, the Astons and the Mercedes, ahead of it overall.

Heart of Racing's #23 Aston, co-piloted by Brits Ross Gunn and David Pittard with Spaniard Alex Riberas, took 7th in GTD Pro, heroically managing to finish after overcoming suspension failure in the last nine minutes of the race. The outcome was particularly disappointing as the car had consistently been running in GTD Pro's top three, holding the class lead on 11 separate occasions for a total of 207 laps.

Another Aston campaigning in GTD Pro, TGM/TF Sport's #64 car, finished 8th in class, moving up 15 positions overall from the start to the end of the race. The grid across the five classes running at Daytona numbered 61 cars, and #64 started 60th.

"Firsts" for team, drivers and marque

For Heart of Racing team principal Ian James it marked his first Rolex 24 win and his 11th career IMSA victory. For Darren Turner it was also his first Rolex 24 victory and his sixth career IMSA win (Roman De Angelis shares the same stats). It marked Marco Sørensen's first Rolex 24 and IMSA win.

The victory was the seventh career win for the Heart of Racing Team, and their first in the Rolex 24. All four Heart of Racing drivers left Daytona with brand new, and hard earned, Rolex watches on their wrists!

The Rolex 24 win also marked the first Aston Martin victory in the history of the endurance classic.

Said Ian James, "It's an honor to be the first win for Aston Martin here at Daytona. It was an awesome job done by the Heart of Racing crew. I'm really proud of everyone here on the team. It's been a real pleasure to share a car this weekend with Darren, Roman and Marco.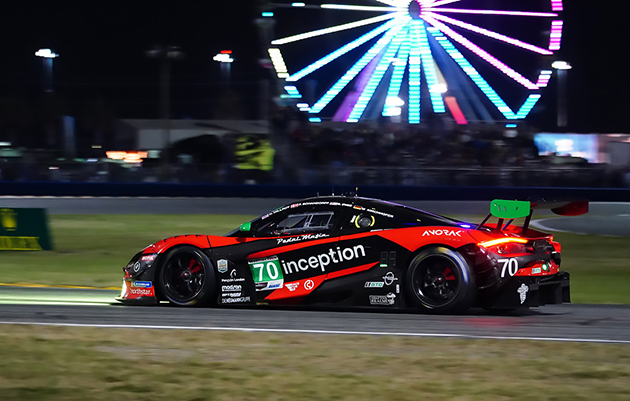 Inception Racing's #70 McLaren completed the GTD podium — Britain winning, placing and showing.
Photo by Jack Webster
"That was a wild last hour or so of the race," he grinned, "but now we can sit back and enjoy."
Darren Turner added, "It is absolutely incredible to win here at Daytona. The performance of our team has been absolutely amazing and the Aston Martins have been the fastest thing out there on the track."
Hmm, maybe that's why there were eight of them signed up for IMSA's Michelin Pilot Challenge earlier this weekend (see below).
IMPC: Astons, McLarens the Big News
by Bruce Vild
Yes, you read that right. There were eight Aston Martin Vantage GT4s in the IMSA Michelin Pilot Challenge (IMPC) race that preceded the Rolex 24, the BMW M Endurance Challenge at Daytona.
Aston was by far the best-represented marque in the Grand Sport (GS) class, better than Mercedes with six, Ford Mustang and BMW each with five, and Porsche with only four, among others.
The IMPC season opener also featured the debut of the McLaren Artura GT4. Following what McLaren Motorsport called "an extensive test and development program," the first two customer cars were delivered to Crucial Motorsports and Motorsports In Action late last year and were seen here this weekend.
And how did they all do? By the time the dust cleared after the checkered flag, Astons had taken three top-10 positions (plus 11th and 12th place) and the Crucial Motorsports McLaren finished 6th — after starting 30th in a field of 32 GS cars.
This involved working their way around traffic from the smaller and just slightly slower cars in the Touring Car class (TCR) as well as racing against the other GS contestants. Altogether there were 46 entries across the two classes and five caution periods (yellow flags) prompted by collisions or mechanical failures.
Automatic Racing's #9, top finisher among the Astons in the Michelin Pilot Challenge race.
Photo by Jack Webster
The Astons
Aston veterans Automatic Racing fielded two teams at Daytona and recorded their best finish in a long time with their #9 car, co-piloted by Jim Jonsin, Tom Long and Brett Sandberg. Long crossed the finish line in 5th place, behind Murillo Racing's #72 Mercedes with driver Christian Szymczak by just 0.007 seconds.
In fact, preliminary results showed Long in 4th, but a re-examination by race officials of what was truly a photo finish confirmed that Szymczak just nosed out Long at the line.
The second Automatic Racing car, the #09 machine in familiar Stoner Car Care livery and driven by Ramin Abdolvahabi and Rob Ecklin, started at the very back of the GS pack and finished mid-field in 17th place.
Abdolvahabi and Ecklin are vying for the IMPC's Bronze Cup with three other GS teams. To be eligible, drivers on the team must all be "bronze" rated as opposed to "silver," "gold" or "platinum." Bronze tends to be where the gentleman (or lady) racers are, along with young professionals on their way up. Automatic Racing's #09 team is in the first category, and both men admit the Bronze Cup is their incentive for running this season.
Another Aston team at Daytona with two cars and sets of drivers was Team TGM, which is using the same drivers in the IMPC and the IWSC — brothers Matt and Hugh Plumb, and Owen Trinkler and Ted Giovanis. Having made the transition from Porsche to Aston Martin over the winter, they are partnering this season with Aston Martin Racing veterans TF Sport, the British team that won its class at Le Mans in 2020 and 2022.
Owner Giovanis commented that he had hoped for a podium or at least a mid-field finish. The Plumbs took their #46 Aston to 9th place while Trinkler and Giovanis brought the #64 sister car to 19th after a close call early in the race — a spin where Giovanis nearly hit a wall. This was compounded by a bad call not to pit #64 for fuel and tires during what would be the race's final caution. That decision had Trinkler leading, then backing off, and finally ducking into the pits in the last few minutes of the race.
Pit strategy is always a gamble, and all things considered these were not bad results for a first run in new-to-them cars. Both TGM machines moved up several positions from the start, each running as high as 2nd over the course of the race and Trinkler leading on two separate occasions for a total of five laps, before losing ground in the final moments of the race. The team is looking forward to Sebring and so are we.
Two McLaren Artura GT4s delivered late last year debuted at Daytona. One was Crucial Motorsports' #58.
Photo by Jack Webster
The McLarens
A big takeaway from Daytona was the performance of Crucial Motorsports' #58 McLaren, particularly at the hands of Michael de Quesada as the race came to a close.
Co-driven with de Quesada by Henry O'Hara and Aurora Straus, the car suffered a collision during the final practice, underwent repair and started the race, as mentioned, way in the back of the pack. O'Hara moved up several positions before handing #58 over to Straus, who brought it up to 13th.
Taking the wheel with about an hour and a half to go, de Quesada really dialed in the car, moving to the top 10, then up to the top six with fewer than 10 laps left in the race. And there he finished, a little over 10 seconds behind the eventual winner, a Ford Mustang.
The Motorsports In Action team, led by drivers Jesse Lazare and Alex Filsinger, had a rougher time of it, qualifying their #69 McLaren in the top 10 but finishing 21st in the race. Filsinger was running 12th when he pitted for the driver change to Lazare, but a drive-through penalty caused by a pit lane violation cost the team several positions and they wound up just off the lead lap.
Impressive results
In the test of endurance, as this was an endurance race — four hours as opposed to the usual two in the IMPC — all the British cars finished and all but one did so on the lead lap. When taken with the result of the "big" race of the weekend, the Rolex 24, the Astons and McLarens proved themselves once again. They brought home IMSA championships last year, and with these results the future looks bright in 2023.
[With thanks to IMSA Radio and Lee Driggers' Pit Notes.]