Feature Stories
---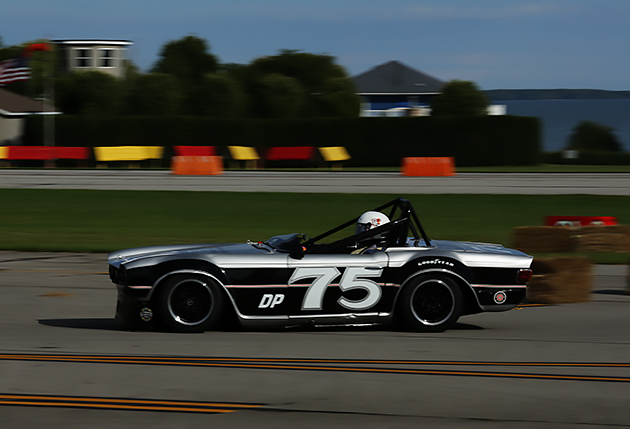 December 2022

Sam Halkias' #75 TR6 won the Challenge, but the other top five places were taken by MGs.

Photo by Todd Sullivan
Put-in-Bay 2022
MGs and Triumphs 'Challenge' Each Other, then the World, at this Year's Road Race Reunion

by Kat Kurkov


PUT-IN-BAY, Ohio, Sept. 20-23 — Islands create their own magic. Characters like Dr. Moreau and Caliban live side by side with Gilligan and cloned velociraptors. It's a place to be "Castaway" or "Lost," to bury a treasure or to find yourself in a Land that Time Forgot.
For several days in the early fall, South Bass Island, off the northern shore of Ohio, becomes a magical time and place. The portal is not a book or a movie, but a ferry laden with race cars, drivers and spectators all with the same destination — the village of Put-in-Bay, and the Put-in-Bay Road Race Reunion, a place "not for big bores or egos" (the event's official motto).
At this year's PIBRRR, MG and Triumph were the featured marques, took on each other in a special "Challenge" race, and then faced competition from their contemporaries ("original era" to 1963, and "post-era," 1963-72) in two races before the final race for the Put-in-Bay Cup. These included two Mustangs, a Porsche 914, an Alfa, a Ford Cortina, and a very fast VW Beetle!
How it all started
Put-in-Bay and South Bass Island are known in history for Admiral Perry's victory in the War of 1812, winemaking, and becoming at one time the largest summer resort in the USA. The island's party atmosphere kept growing after World War II, so it was just a matter of time that road racing would follow.
Carl Goodwin takes a break from the track to promote his book on road racing back in the day.
Photo by Todd Sullivan
In 1952 a 3.2-mile track was devised with a one-mile straight in the midst of its turns. The start/finish line was Delaware Avenue, right smack downtown. Spectating was sport for the nimble, as safety took the back seat to getting a great view. There was no prize money for winning in your (basically) daily driver, or SCCA points — just a silver cup, and a chance to make history with 99 or so other drivers in 2-liter (and under) cars.
The drivers' exploits are chronicled in Carl Goodwin's aptly-titled book, The Put-in-Bay Road Races, 1952-1963. (This year Goodwin, now a veteran racer, was the second oldest driver on the track in his 1962 Austin-Healey Sprite. He was joined by Sally Vaughan-Carroll, long-time friend and President of the Cleveland Sports Car Club, and an attendee at the first Put-in Bay race.)
History repeats itself
Although road racing on the island ended in 1963, it returned in 2009 on a very limited basis thanks to the efforts of event co-founder and Race Director Jack Woehrle. Then in 2012, with FAA approval granted, a 10-turn, 1.2-mile haybale course was set up at the island airport, which shut down for two days.
The race program evolved, and so did the guidelines. Currently, vintage race-prepared pre-1973 production cars up to 3 liters, sports racers up to 1.5 liters, Formula Vees and Formula Juniors are all welcome, making this a unique playing field for cars rarely seen on the track.
In the '50s British cars, especially MGs, dominated road racing with Triumphs a close second. This was repeated 70 years later when Manley Ford, Event Coordinator, Media Contact and general MG guru got together with friend and racer Richie Hahn, a Triumph advocate, and put an MG-Triumph Challenge Feature Race on the books for this year's PIBRRR.
The Challenge Cup
Of 21 cars registered, 10 MGs and five Triumphs made it onto the tarmac. The wind whipped a Union Jack as the cars fell into formation awaiting the green flag. Fifteen laps later, Sam Halkias in his 1971 black "Paul Newman tribute" TR6 was the first to cross the checker. With a displacement of 2500cc, a dog-box transmission and being truly dialed in for this race, the car allowed veteran driver Halkias to win by a wide margin.
Great friends and long-time fellow racers Kurt Byrnes in a 1951 MG TD and Steve Konsin in a 1953 TD came in a clear 2nd and 3rd with much of the pack significantly behind them.
Entrants assemble for the Put-in-Bay Cup Race.
Photo by Todd Sullivan
Of special note was 4th-place finisher Mark Lekanka in a red 1952 MG TD. He is an island native, a long-time employee of Millers Ferry (which sponsored his car), and all-around race facilitator and volunteer.
The Put-in-Bay Cup
The Cup Race on Thursday saw a very spirited but unlikely competition, with British cars taking 1st and 3rd. The TR6 with Halkias behind the wheel was again a clear winner, but not before battling with Greg Limbar's 1971 VW Beetle (often shrouded in blue smoke), and Lee Poseidon's 1962 Jaguar XKE. Drivers found that in a course like this acceleration was, as always, important — but keeping your brakes from fading brought you victory.
Great results across most classes
There were five groups racing with 15 classes spread among them. With the exception of Group Five (the FJ/FL class), British cars were well represented and won the podium in the Cup Race. Konsin and Halkias placed 1st in their groups, and were joined by Randy McConnell (1962 Austin Mini Cooper) and Robert Kansa (1960 Austin-Healey Sebring Sprite) in theirs.
In addition to the racing there were car shows, drives, parties and gatherings — first at Heineman Winery, then at The Goat for soup and whiskey, which also hosted rocker cover races (single-elimination and gravity-driven).
Until next year...
"In view of the Perry Victory and International Peace Memorial, minutes from the vineyards and markers outlining the original race circuit, the mail plane lands. Like clockwork the airport shuts down as fall winds blow across miles of open water. The time machine spins the years back and racers in vintage cars once again make this island their own..."
A classic island tale — not broadcast, not scripted — but rewritten each year, with heroes and horsepower taking us to a different time, place and reality.
For more information and the complete race results, visit www.pibroadrace.com.
November 2022

The show field on Saturday. The featured marques this year were Lotus, Triumph and Mini.
Photo by Bruce Vild
From Strength to Strength
Stowe's 'British Invasion' on the Rebound with Numbers Up and Cars from All Over

by Michael Gaetano


STOWE, Vt., Sept. 9-11 — Year thirty-one and the tradition indeed has continued.
With Triumph, Mini and Lotus as featured marques, British Invasion 2022 enjoyed an impressive turnout approaching pre-COVID levels in the judged Concours, the people's choice British Classic Motorcar Show and even the Car Corral.
Enthusiasts drove in from all over New England, plus Maryland, New Jersey, New York, Pennsylvania and Virginia. We were pleased to welcome back friends from Nova Scotia, Ontario and Québec, Canada — and from other points on the compass as well.
We enjoyed perfect weather for the customary Friday Street Party in downtown Stowe, and warm weather and clear skies for Saturday and Sunday's competitions on the Stowe Special Events Field off Weeks Hill Road.
Over 550 British motorcars and bikes
As the largest all-British motorcar event in the eastern United States, we managed to field over 550 cars and motorcycles on Saturday. Several paid a premium to register on Friday afternoon for either the British Classic Motorcar Show, where winners are determined by popular vote, or the Car Corral, where British vehicles are offered for sale.
The British Classic Motorcar Show was where the vast majority of our entrants were located. We had 67 separate classes and we awarded 131 awards to class winners. There was also a Best of Show Award, which went to Jay Miller of Little Compton, R.I., and his 1939 Bentley 4 1/4 Litre Saloon.
The Concours d'Elegance, our judged competition, challenged owners not only to compete against other entrants, but also against a Code of Excellence that set the minimum score required to be awarded 3rd, 2nd, or 1st place. The Best of Show Award in the Concours d'Elegance went to Paul Angelico of Berlin, Conn., and his 1995 Jaguar XJS.
A complete roster of all the winners from the British Classic, the Concours, other competitions and special awards may be viewed on the event website, www.britishinvasion.com, or in the November 2022 issue of British Marque Car Club News.
Best of Show, British Classic Motorcar Show, was Jay Miller's 1939 Bentley 4 1/4 Litre.
Photo by Bruce Vild
Special displays on Saturday
The Concours d'Elegance was complemented by a collection of Land Rovers belonging to Jim Macri of High Meadow Farm in Saxtons River, Vt., who has been bringing them to the British Invasion for a few years now. Jim also displayed his 1947 Rover motorcar in our Concours. Jim promises an even larger display for 2023.
We also enjoyed the participation of Ernie Boch, Jr., who brought a 2004 Rolls-Royce Phantom I reimagined as a psychedelic John Lennon tribute car, along with a 2001 Rolls-Royce Cullinan, a 2003 Bentley Azure and a 1958 Rolls-Royce Silver Cloud. Ernie was serving pastries and beverages from his Cullinan on Sunday and, like Jim Macri, is looking forward to a larger presentation next year.
Sunday runs and competitions
Sunday started with a large following of British motorcars for the traditional morning Notch Run. I believe we attracted over 40 of them, which followed along behind my 1947 Bentley as we climbed over Smuggler's Notch and managed a 70-minute, rural Vermont morning drive.
Meanwhile, back at the show field, entrants were setting up for the Competition of Colors, where cars are parked by color rather than marque and model, and for the Tailgate Picnic Competition, which included a military tribute to the late Queen Elizabeth.
Thank you
We owe a special debt of gratitude to the more than 30 volunteers who made this year's British Invasion the success it was as they helped with field layout, show car parking, registration, regalia sales, general admission, Concours judging, ballot counting, the awards program, the Queen's Court, and then the breaking-down of the show field and packing up.
(We can always use additional staff on our Event Team! Once home everything needs to be unpacked, inventoried, and re-prepped for the next year's Invasion.)
We also thank the American Cancer Society for managing general admission parking for British Invasion spectators, and are pleased to report they raised a respectable amount of money for their cause during the Invasion weekend.
As you mark your calendar for British Invasion XXXII, please note that for 2023 we have moved back to the third weekend of September (the 15th to the 17th). We encourage you to make your plans and book early. The featured marques with be Jaguar, Land Rover and Morgan.
And finally, thank you to all who attended and helped to make the British Invasion a memorable weekend in scenic Stowe, Vt., over the past 31 years. We wish you many miles of carefree and enjoyable touring in your British classic.
[Michael is the British Invasion's Event Chairman and master of ceremonies during the Invasion weekend.]
Best of Concours was Paul Angelico's 1995 Jaguar XJS.
Photo by Bob Doyle
Invasion awards (partial listing)
In the Concours d'Elegance and British Classic Motorcar Show:
Best of Concours: Paul Angelico, 1995 Jaguar XJS.
Best of Show: Jay Miller, 1939 Bentley 4 1/4 Litre.
In the Tailgate Picnic Competition:
Most Creative: Christina & Paul McCaffrey, 1954 Bentley R-type.
Most Entertaining: Christina & Paul McCaffrey, 1954 Bentley R-type.
Most British: Gus Niewenhous, 1973 Rolls-Royce Silver Shadow.
Best Costume: Gus Niewenhous, 1973 Rolls-Royce Silver Shadow.
Best Tasting: Earl & Jackie Moffit, 1976 Rover 3500S.
Most Humorous: Earl & Jackie Moffit, 1976 Rover 3500S.
In the Competition of Colors:
Best Red Motorcar: Eric Archambault, 1971 MGB GT.
Best White Motorcar: Pierre Deslauriers, 1967 Austin-Healey 3000.
Best Blue Motorcar: Shannon Robbins, 1967 Auston Mini Pickup.
Best British Racing Green Motorcar: Stephane Dumaine, 1956 Jaguar XK140 MC OTS.
Best Black Motorcar: David Yeo & Joann Festa, 1969 MGB.
Best Two-Tone Motorcar: Deidre Smymos, 1957 Nash Metropolitan.
Best Rainbow Motorcar: Stephane Dumaine, 1960 MGA 1600.
'Most Elegant' awardee in the Ladies Hat Competition was Cooper D'Angelo.
Photo by Nancy Beres
In the Ladies Hat Competition:
Most British: Kristen Slater.
Most Humorous: Pam Crocker.
Best Vintage Hat: Samantha Tocchio.
Queen's Choice: Sharon Breznick.
Queen in Training: Fillippa & Elina Blake.
Most Elegant: Cooper D'Angelo.
Most Creative: Bridget & Marlena Bellini.
In British Attire:
Best Automotive Theme: Michael & Catherine Chiusana.
Most British: Bill Duffy.
Most Colorful: Doug & Pam Conlan.
Most Elegant: Bill & Steve Rule.
Most Humorous: Paul Galipean.
Best British Couple: Cheryl & Tom Patty.
Best Man's Cap: Bill Jouris.
Special awards
The Chairman's Award: This award is presented in recognition of the advancement, preservation and support of the British motorcar hobby and lifestyle, particularly those who have worked hard to prepare and present the British Invasion weekend each year. Recipients are chosen by the Event Chairman and the Executive Committee on an annual basis.
Awarded this year to Robert and Monique Doyle, Roger and Deborah Bissonnette, Phil Roy, and Ernie Boch, Jr.
The Heritage Award: This award celebrates the passing of the love of British motorcars from parent to child and is presented to the son or daughter of a long-time British Invasion registrant. The recipient is someone who first came to the British Invasion as a young child and today is coming as the proud owner of a British motorcar that is registered for presentation at the show, be it in Concours or the British Classic. Parents can apply for this recognition in advance of the show with a written history and a photo of their son's or daughter's British motorcar.
Awarded this year to Joshua Lee.